2019 Melges 24 European Sailing Series Kicks Off in Portoroz
04.04.2019
April 4, 2019 - Portoroz, Slovenia - 
The engines are warming up in Portoroz, Slovenia where in the upcoming weekend, from April 5th to 7th, the inaugural act of the 2019 Melges 24 European Sailing Series - Marina Portoroz Melges 24 Regatta - will be hosted by Yacht Club Marina Portoroz and Slovenian Melges 24 Class Association, with the cooperation of the International Melges 24 Class Association. 
In the past weekend, eleven boats from four Europeans countries had already gathered in Portoroz for the 1st Stage of the Melges 24 Alpe Adria Cup 2019 to test the race course which will host three days of racing that will assign the first points valid for the overall ranking of the 
2019 Melges 24 European Sailing Series
.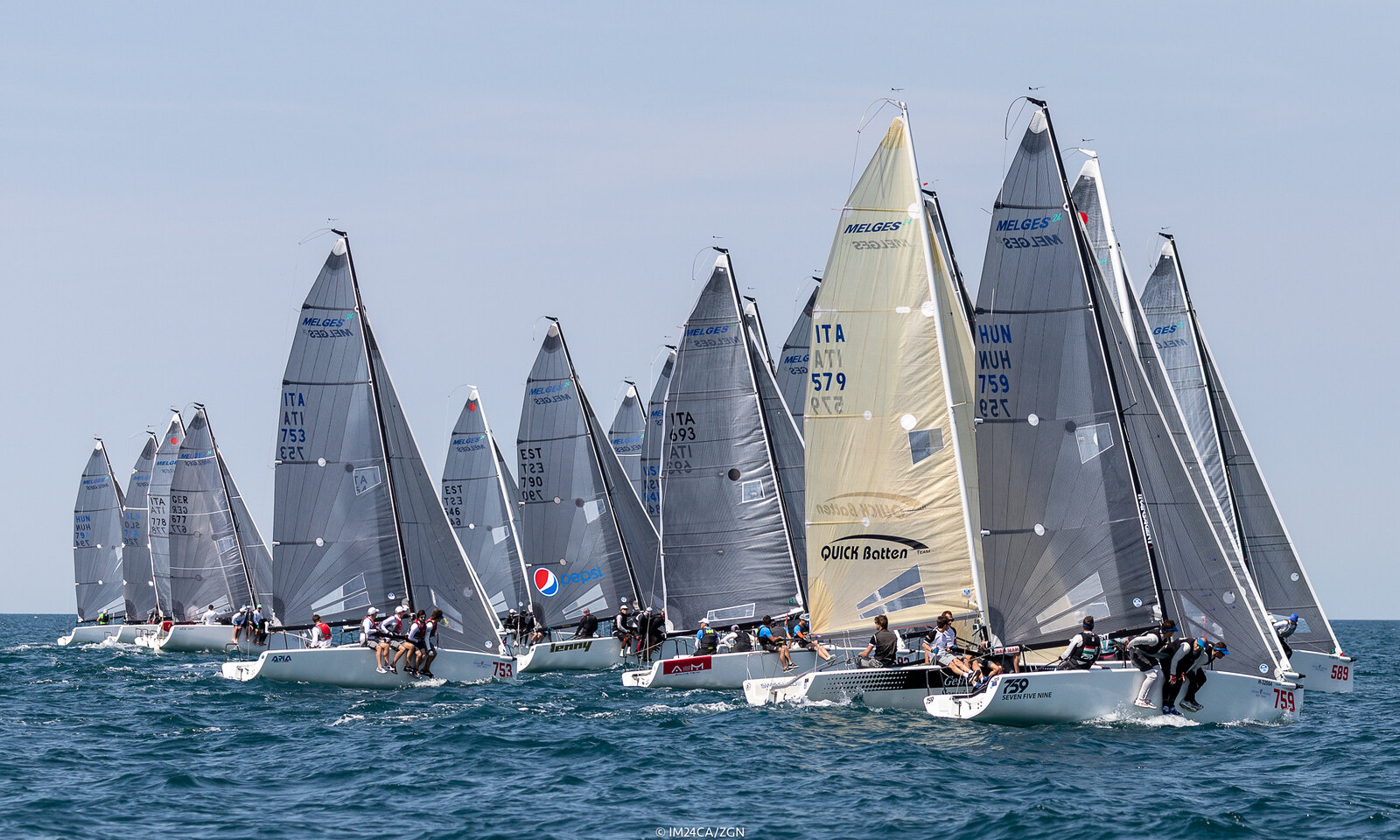 Melges 24 fleet in Portoroz in April 2018 - photo (c) Zerogradinord/IM24CA
For the upcoming weekend, over thirty boats from all over the Europe (10 countries represented so far) have already registered, and some latecomers are expected to join the fleet until tomorrow. Among the entries, we find the already Corinthian European and World Champions and the winners of 2018 Melges 24 European Sailing Series onboard Marco Zammarchi's Taki 4 ITA778 and Tõnu Tõniste's Lenny EST790, the second classified Corinthian crew at the 2018 Melges 24 Europeans; White Room GER677 by Michael Tarabochia as the second classified Corinthian team of the 2018 European Sailing Series and some iconic name of the Melges 24 Class, as Gill Race Team GBR694 by Miles Quinton, FGF Sailing Team HUN728 by Robert Bakoczy and Arkanoè by Montura ITA809 by the young Sergio Caramel, with his fully under-30 crew.
"We are delighted to host the opening act of the 2019 Melges 24 European Sailing Series for the 6th time already and bring, this year also, great international sailing to the bay of Piran. For us, this edition is particularly important as it represents the final test to prepare to the Melges 24 European Championship that will be hosted here next year. The race course of Portoroz is close to the Marina and benefits from steady wind and sea breezes, we hope the sailors will take the chance to test it with this event as an anticipation to the 2020 Europeans," declared the Event Manager Branko Parunov.
Nine races are scheduled for three days of racing. Racing will then kick off on Friday April 5th, with first start scheduled for 12.00. The races will be managed by Principal Race Officer David Bartol.
****************************************
2019 Melges 24 European Sailing Series includes five events in total.
1. April 4-7 - Portoroz, Slovenia - Marina Portoroz Regatta, 1st Stage of the Melges 24 Alpe Adria Cup 2019
2. May 3-5 -Malcesine, Italy - Coppa Italia Franco Rao, 1st Act of the Italian Melges24Tour
3. June 7-9 - Riva del Garda, Italy - 2nd Act of the Italian Melges24Tour
4. July 19-21 - Scarlino, Italy - Melges 24 Italian National Championship, 3rd Act of the Italian Melges24Tour
5. October 5-12 - Villasimius, Sardinia, Italy - Melges 24 World Championship, 4th Act of the Italian Melges24Tour
Media:
The best images, videos and news will be brought to you by Zerogradinord. 
Event Press Officers - Mauro Melandri and Silvia Gallegati  
Event Photographer - Andrea Carloni 
Event Videographer - Stefano Bareggi
For further information on the events, please contact:
IM24CA Administrator & Media Coordinator
phone: +372 507 7217