Gulari and Dyvi win Bacardi Cup Invitational Regatta 2022
12.03.2022
March 12, 2022 - Miami, FL, USA - The Bacardi Cup and Bacardi Cup Invitational Regatta wrapped up in fine style with the awards presentation at Shake-A-Leg Miami, accompanied by Bacardi rum and hospitality.
The weather front that was expected to sweep through Biscayne Bay after racing on Saturday, March 12, arrived early, with the strong wind forcing racing to be cancelled for all classes at 0900 hours this morning.
Each day the weather has unfolded as per the forecast, so with 30+ knots of breeze expected the different course PROs took their decision based on each class and were unanimous to keep safe racing conditions and cancel all racing.
Superb winds for the preceding days delivered five neck and neck races for the Star Class, with an equally intense six race series for the J/70, Melges 24, Viper 640, VX One, and twelve races for the 69F. The overnight scoreboards are final and class podiums decided.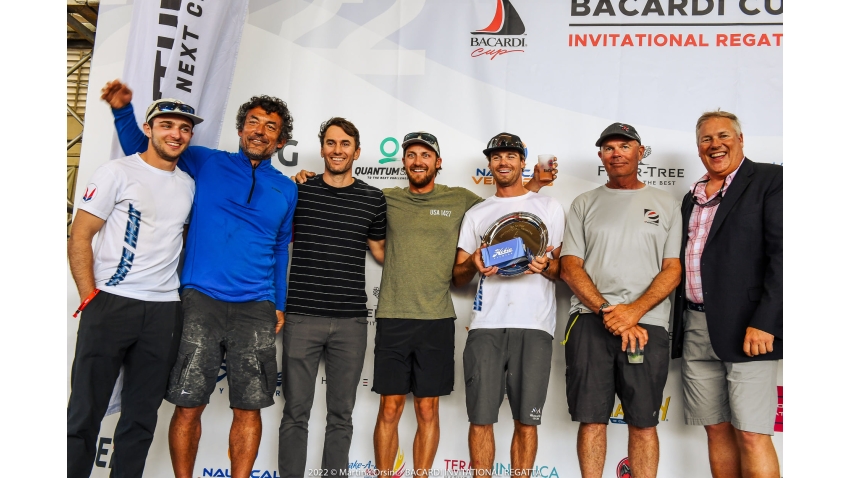 Melges 24 Class
Three in a row for Bora Gulari (USA) and his crew on 'Mavi', who adds the 2022 title to his 2021 and 2020 victories, after winning on tiebreak over the Brian Porter's (USA) 'Full Throttle'. Another tiebreak for 3rd place gave the final podium spot to Drew Freides (USA) on 'Pacific Yankee'.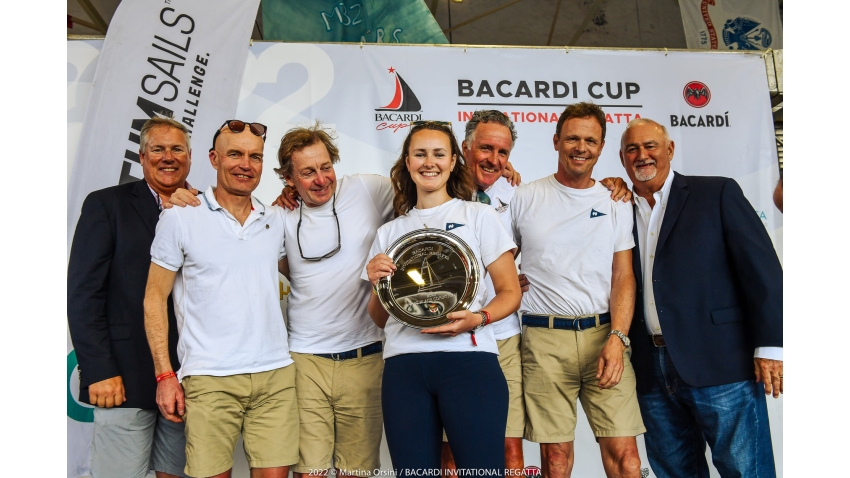 Norway's Jan Frederick Dyvi on Team RRH took home Corinthian top honors (finishing 11th overall) over Steve Suddath's 3 1/2 Men and Roger Counihan's Jaws, finishing second and third respectively.
"Our week was great, we had a little hiccup on the first day with the U flag, but the rest was very solid," commented Gulari, in a nod to their penalty score in race 3. "There was great Miami weather, best regatta of the year. The winds are perfect, the atmosphere was great and it is a wonderful place to sail.
Acknowledging the talent around him, Gulari said, "The competition is stacked. I am trying to think how many people had Rolex Yachtsman of the Year in the fleet! There's World Champions left and right, and Olympic medallists. I want to also thank my crew. I have literally the best crew out there and the whole reason we succeed is their hard work."
On the renowned event hospitality, Gulari didn't hold back, adding, "It's wonderful to come in and have a nice Bacardi drink at the end of the day, while putting away the boat. Basically, this is what you live for when you get to go sail regattas. Best conditions, best time of the year to sail in Miami and Bacardi does such a great job organizing the event."
Melges 24 (One Design - 26 Boats)
Mavi , USA820, Bora Gulari / Kyle Navin / Norman Berge / Ian Liberty / Michael Menninger - 1 - 4 - [27/UFD] - 1 - 1 - 4 ; 11
Full Throttle, USA849, Brian Porter / RJ Porter / Bri Porter / Matt Woodworth - 2 - 2 - 2 - [5] - 3 - 2 ; 11
PACIFIC YANKEE, USA865, Drew Freides / Charlie Smythe / Morgan Reeser / Federico Michetti / Lara Poljsak - 5 - 1 - 6 - 4 - 4 - [27/UFD] ; 20
Zenda Express, USA866, Harry Melges IV / Finn Rowe / Ripley Shelley / Carlos Robles / Nick Muller - 7 - 3 - 3 - [10] - 2 - 5 ; 20
Lucky Dog, USA858, Travis Weisleder / John Bowden / Hayden Goodrick / Mark Mendleblatt - 4 - 13 - 1 - 2 - 7 - [27/UFD] ; 27
Monsoon, USA851, Bruce Ayres / Kate O'Donnell / Ted Hackney / Thomas Dietrich / Jeremy Wilmot - 6 - [10] - 4 - 6 - 9 - 7 ; 32
Rasta Mixta, USA829, Peter Duncan / Matt Pistay / Willem Van Waay / Morgan Trubovich / Victor diaz De Leon - [11] - 7 - 5 - 3 - 10 - 9 ; 34
Dark Energy, USA864, Laura Grondin / Taylor Canfield / Cole Brauer / Scott Ewing / Rich Peale - 3 - 9 - [27/UFD] - 8 - 12 - 8 ; 40
Flying Jenny, USA801, Sandra Askew / Nick Ford / Dave Shreiner / Alan Nakamisha / Reed Baldridge - 8 - 8 - 10 - 7 - 8 - [13] ; 41
Zingara, CAN853, Richard Reid / Rebecca Anderson / Fred Strammer / Ian Sloan / Brian Kamilar - 10 - 15 - 8 - [19] - 6 - 3 ; 42
 
Corinthian Top 3
11. Team RRH, NOR732, Jan Frederik Dyvi / Jan Borø / Herman Horn-Johannessen / Stian Ness Rørvik / Malin Rørvik-Sundelin - 9 - [12] - 9 - 9 - 5 - 12 ; 44
17. 3 1/2 Men, USA862, Steve Suddath / Shawn Burke / Steve Burke / Jack Smith - 16 - 17 - 13 - 15 - [21] - 18 ; 79
18. Jaws, USA775, Roger Counihan / Travis Maier / Todd Wilson / Bev Cady - [22] - 19 - 16 - 20 - 17 - 16 ; 88