Drew Freides Wins Melges 24 Bacardi Winter Series Event No. 1
19.12.2022
December 19, 2022 - Miami, FL, USA - He's our last overall Melges 24 regatta winner of 2022, and our first of 2023… congratulations are in full order for Drew Freides racing Pacific Yankee, with Bacardi Winter Series Event No. 1 champion crew members Nic Asher, Charlie Smythe, Alec Anderson and Mark Ivey. Freides came into the Melges 24 Class just a little over a year ago and has clocked several top-ten finishes, but this event marks his first big regatta win.
A thrilling final day, Sunday, December 18, saw the race track shaken and stirred as Melges 24 teams battled for leaderboard glory at the opening event of the 2022/2023 Bacardi Regatta Series on Biscayne Bay, Miami.
Despite mixed fortunes for some, the overnight leaders after Saturday's three races continued to serve up their best, with victory going to Drew Freides and crew on Pacific Yankee in the Melges 24.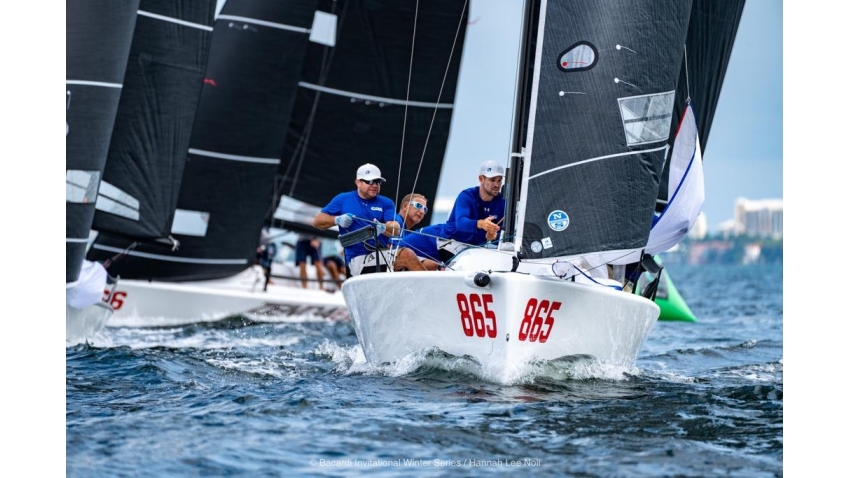 From distant lightning and thunder in the morning, the weather eased to a steady breeze of 7-11 knots for the opening race, before veering to the north-northeast and building to 12-14 knots and a choppy sea for the final two, to complete the 6-race series.
With points close, talent high and lots of opportunity for a podium punt, plenty of action unfolded across Sunday's three races.
It was game on and a battle to the end amongst the eighteen teams in the Melges 24 fleet. The race track was thick with expectation and pressure as the top three went into race 4 to break their 3-way tiebreak, with the rest of the pack intent on ascending the leaderboard.
Drew Freides Pacific Yankee came out on top in race 4, with their unstoppable win placing them ahead by 5 points over Chris Larson racing Peter Duncan's Raza Mixta, whilst an 11th place finish from Laura Grondin's Dark Energy gave them a mountain to climb to return to contention. 
Fresh from a silver medal at his first Melges 24 Worlds in May 2022, Harry Melges IV' team on Zenda Express found something new to switch the power on in race 4, finishing 2nd to establish the team's credentials for a podium finish. UFD penalties went to four teams, including Richard Reid's Zingara, who dropped down the leaderboard to 9th overall.
"The guys I am sailing with sailed really well," said Harry Melges IV. "We do quite a bit of sailing back home at Wisconsin so I think that helps keep us up towards the top."
Reflecting on their bounce back from yesterday, he continued, "You just have to go into every race fresh and forget about the last race and keep going, keep racing hard."
Pacific Yankee again controlled the fleet in race 5, winning the pin end and tacking across the fleet about two minutes into the race, to score another win. Zingara bounced back from their UFD to finish 2nd, with Zenda Express keeping the pressure on to finish just behind.
Laura Grondin edged further down the leaderboard after an incident at the start of race 5 left the team playing catch up. Fortunately, or unfortunately, her closest rivals in contention for third on the podium had similar scores, so there was still a chance going into the final race 6. 
Onto race 6 and Pacific Yankee looking assured for the event win, but the plot was thick. In theory, if Zenda Express won the final race and Pacific Yankee finished 8th or worse, the leaderboard could switch. Melges IV also needed to outsmart third placed Larson to hold onto second overall, whilst behind a points minefield for the seven teams placed 3rd to 9th who had all had a shot at chasing third overall. 
There was no doubting the superiority of the teamwork on Pacific Yankee as they led to the first windward mark, before being overhauled by Zenda Express who claimed the race 6 win to secure 2nd overall. Their 4th place finish assured Freides of glory.
The current team aboard Pacific Yankee has only recently come together, as Alec Anderson explained, "It's an old program, but a new group and we are working towards doing the World Championships in Denmark next year, and this is one of the steps on the road."
"We had a good day yesterday and kind of survived day 1 and went out today and had a 1,1,4 and took it down. So we are really happy with how it went, but mostly we are just focused on the process of coming together as a new team."
A recovery for Grondin with a 2nd in race 6, but it was not enough to put them on the podium. A 3rd place finish from Larson rewarded them with third overall, Grondin settled for 4th.
The top Melges 24 Corinthian team was Chuck Lamphere's Entente team in 14th overall.
Celebrations continued ashore at the Bacardi Happy Hour, followed by the Prize Giving at Shake-A-Leg-Miami (SALM). Thanks to SALM who hosted the Bacardi Winter Series Event 1 and Coconut Grove Sailing Club who provided the race management team.
Bacardi Winter Series Event 2 takes place from January 27-29, 2023, followed by the concluding event of the series, the Bacardi Invitational Regatta from March 8-11, 2023.
Follow at:
Web: bacardiinvitational.com 
Facebook: facebook.com/BacardiCupInvitational
Instagram: instagram.com/bacardi_regatta
Final results after 6 races:
PACIFIC YANKEE, Drew Freides / Nic Asher / Charlie Smythe / Alec Anderson / Mark Ivey , USA - 4 -[8] -1 -1 -1 -4 ; 11
ZENDA EXPRESS, Harry Melges IV / Jeremy Willmot / Fin Rowe / Ripley Shelley / Cooper Del Bridge , USA - 6 -[10] -3 -2 -3 -1 ; 15
RAZA MIXTA, Chris Larson / Victor Diaz de Leon / Erik Shampaign / Patrick Wilson / Norman Berge , USA - 1 -5 -7 -6 -[13] -3 ; 22
Dark Energy, Laura Grondin / Taylor Canfield / Rich Peale / Cole Brauer / Rob Scrivenor , USA - 2 -2 -9 -[11] -10 -2 ; 25
Gamecock, Peter McClennen / Anthony Kotoun / Mike Marshall / Allie Grey / Wilson Stout , USA - 5 -[14] -4 -10 -7 -6 ; 32
Zingara, Richard Reid / Serena Vilage / Ian Sloan / Bill Gooderham / Brian Kamilar , CAN - 12 -3 -2 -[19/UFD] -2 -14 ; 33
Lucky Dog, Travis Weisleder / John Bowden / Mike Buckley / Federico Michetti , USA - 3 -4 -8 -7 -[14] -12 ; 34
War Canoe, Michael Goldfarb / Chris Rast / Jonny Goldsberry / Dave Hughes / Matteo Ramian , USA - 7 -6 -[13] -3 -11 -8 ; 35
Nefeli, Peter-David Karrié / Alessandro Franci / Niccolò Bianchi / Saverio Cigliano / Alessandro Saettone , GER - 10 -1 -10 -9 -6 -[16] ; 36
Bombarda, Andrea Pozzi / andrea pozzi / matteo ivaldi / stefano ciampalini / carlo zermini , ita - 11 -7 -5 -[19/UFD] -14/SCP -5 ; 42
The 300, Steven Boho / Sophie Jones / Catherine Boho / Tedd Keller / Kevin Jewett , USA - 13 -9 -6 -[19/UFD] -4 -13 ; 45
STIG, Alessandro Rombelli / Stefano Cherin / Giorgio Tortarolo / Manuel Modena / Federica´ Salva , ITA - 14 -11 -[17] -5 -5 -11 ; 46
Flying Jenny, Sandra Askew / Reed Baldridge / David Schreiner / Nick Ford / Allan Natakashi , USA - [15] -13 -11 -4 -15 -7 ; 50
Entente, Chuck Lamphere / John Porter / Will Huerth / Taylor Just , USA - [16] -16 -15 -8 -8 -10 ; 57
Darkhorse, Cuyler Morris / Will Welles / Stuart MacNeil / Connor Ratcliff / Emma Marston , USA - 8 -12 -12 -[19/UFD] -12 -15 ; 59
Obsession, Gary Schwarting / Gwen Andersen / Coleen Walsh / Nick Amendola / Vladimir Kulinichenko , USA - 9 -15 -14 -12 -[17] -9 ; 59
Huzzah, Greg Chamberlain / Matt Mercier / Matt Lane / Matt Bennett , CAN - [17] -17 -16 -13 -16 -17 ; 79
Drippin wet, Michael Wroblewski / Scott Dysart / Scott Baste / Manolo Campos , USA - [18] -18 -18 -14 -18 -18 ; 86