MELGES 24 US - Bergendahl's Resilience and Patience Prove Key to Success at New York Yacht Club One-Design Regatta
02.07.2018
July 2, 2018 - New York, USA - With 59 boats spread across three competitive one-design classes, the New York Yacht Club One-Design Regatta has earned a place on the summer calendar in just its second year. The wind played possum for much of the weekend, but the New York Yacht Club Race Committee earned strong reviews for getting in four races for each of the classes.
Finding clean air, and a little bit velocity more than your competitors, was also the path to success for Peter Bergandahl (below, blue shirt), who won the 11-boat Melges 24 class with his team on Wardance.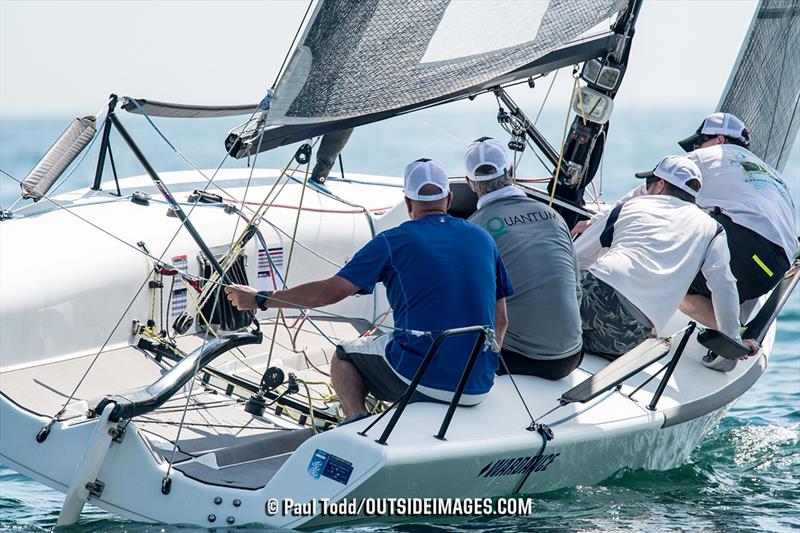 Peter Bergendahl and his team on Wardance USA798 - Photo (c) Paul Todd / Outsideimages.com
"When it's light like that, it seems that sailing in clear air is always the best thing; sailing toward pressure," he said. That was what we really tried to focus on. You had to get a good lane and good pressure and that seemed to help a lot. Getting off the line clean was a big deal.
"The boat was going well. We have a good crew."
But Bergandahl rallied 10 other teams to come to Newport and anticipates a stronger showing next year.
"The class is growing again in the United States," he said. "We're trying to get more regional events going. Hopefully we can get more boats next year. We had a number of people here that this was sort of a first-time event, so that's really good."
Melges 24 (One Design - 11 Boats)
1. Wardance, USA798, Peter Bergendahl - 1 -1 -1 -2 ; 5
2. Dark Energy, USA738, Laura Grondin - 3 -2 -3 -1 ; 9
3. Ripcord, USA7, Paul Bergendahl - 4 -3 -2 -4 ; 13
4. Shaka, USA801, KC Shannon - 2 -4 -6 -7 ; 19
5. Slingshot, USA47, Wes Whitmyer Jr - 5 -7 -4 -6 ; 22
6. Leda , USA115, Chris & Vicki Field - 7 -6 -7 -8 ; 28
7. Firewater, USA687, George Haynie - 9 -9 -9 -3 ; 30
8. Rattlesnake, USA570, Carter and Clark Robertson - 6 -10 -5 -10 ; 31
9. Opportunity, USA43, Zach Champney - 10 -8 -8 -5 ; 31
10. Surprise, CAN629, Dan Berezin - 8 -5 -11 -12 ; 36
11. Crazy Train, USA155, Patrick and Brigette Croke - 11 -11 -10 -9 ; 41